Masks and vaccinations are required when attending our shows.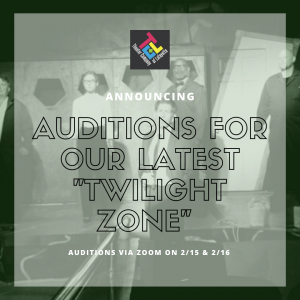 Theater Company of Lafayette Presents
Theater Company of Lafayette is thrilled to present Twilight Zone Returns! (a parody). Auditions are Tuesday, February 15 & Wednesday, February 16 at 7-8:45pm with audition slots available for each night. More info can be found here:
Theater Company of Lafayette Presents
The Adventures of Mr. Toad
A play produced via ZOOM!
Mr. Toad is on trial for going on a joy ride in an automobile that did not belong to him and is cheeky to a police officer. Find out what will happen when his friends, Mole, Rat, and Badger find out!
---
Theater Company of Lafayette Presents
---
The comedic romp, by Jessie Jones, Nicholas Hope, and Jamie Wooten, and directed by Hannah Richards, at The Mary Miller, 300 East Simpson, Lafayette, CO 80026.
ALWAYS A BRIDESMAIDS 4 best friends swear to keep the promise they made on the night of their Senior Prom: to be in each other's weddings…no matter what it takes or how long it takes. Full of laughs and relatability, Always A Bridesmaid is sure to entertain.
At Theater Company of Lafayette, we believe in the power of theater for story telling and the power of the black voice. We believe in equality and stand in solidarity. BLACK LIVES MATTER. "If art doesn't make us better, then what on earth is it for?"Alice Walker
"It was the most intimate theater experience that I've had and that setting just added to an already powerful and emotional play."The Laramie Project opening night audience member