Masks are required when attending our shows.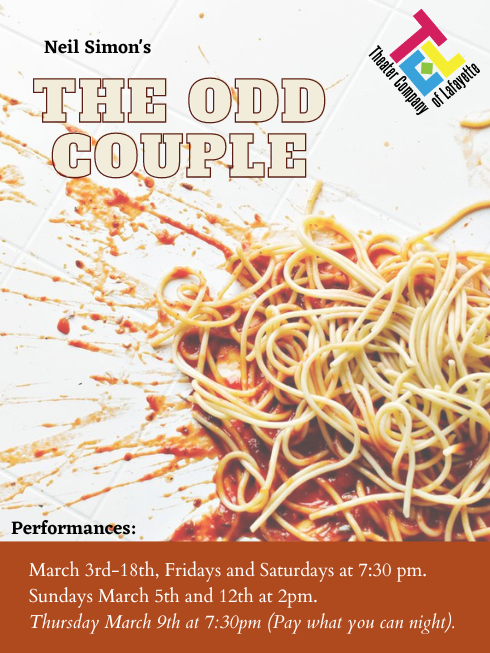 ---
theater company of Lafayette presents
When recently divorced sports writer, Oscar Madison, sees his good friend, Felix Ungar, struggling with the end of his own marriage, he invites him to live in his 8-bedroom apartment. This satirical play chronicles the unconventional relationship between friends turned roommates who are both trying to get their acts together while maintaining what little control they believed they had. Poker nights, food fights, and failed dates abound.

WHERE:
Mary Miller Theater, 300 East Simpson Street, Lafayette, CO 80026.
WHEN:
Fri 3/3, Sat 3/4: 7:30 pm
Sun 3/5: 2 pm
Thu 3/9: 7:30 pm (Pay what you can night)
Fri 3/10, Sat 3/11: 7:30 pm
Sun 3/12: 2 pm
Fri 3/17, Sat 3/18: 7:30 pm
Tickets on sale soon!

Stay tuned for more details on our 2023 season. After The Odd Couple, In The Next Room - The Vibrator Play.

Auditions:
February 17, 18, and 19 - details here!
Performances:
Fri 5/5, Sat 5/6: 7:30pm
Sun 5/7: 2pm

Fri 5/12, Sat 5/13: 7:30pm
Sun 5/14: 2pm

Thu 5/18: 7:30pm (Pay what you want night).
Fri 5/19, Sat 5/20: 7:30p
---
---
We are so excited about receiving this distinction from our beloved community. As Yellow Scene Magazine explains, community members vote for their preferred theater by writing in their vote, no drop-down menus or multiple days of submitting votes.
We are passionate about putting on thoughtful, fun, engaging, and unique shows, and this award shows us our hard work paid off. Thank you to all who voted, it means the world to us.
We can't wait to continue putting on more productions that tickle the senses and inspire the mind. Thank you, from all of us at TCL.
To learn more about the award, click here.
Theater Company of Lafayette Presents
Plays produced via Zoom!
We all coped with the ravages of the COVID-19 pandemic differently. For all of us at TCL, turning off our theater minds just wasn't an option, so like everybody else, we took to the internet! We're really proud of the creativity, innovation, and playfulness we brought to the medium, and we hope you consider joining us for a delightful romp via YouTube:
click here to subscribe and watch our stuff!
---
At Theater Company of Lafayette, we believe in the power of theater for story telling and the power of the black voice. We believe in equality and stand in solidarity. BLACK LIVES MATTER. "If art doesn't make us better, then what on earth is it for?"Alice Walker
"It was the most intimate theater experience that I've had and that setting just added to an already powerful and emotional play."The Laramie Project opening night audience member